How to read an online guitar tab
Help
Save
Reading a guitar tab found on the internet
Basics required for this lesson :
None
Practice this lesson :
None
Attention
: This guitar lesson is archived since.
02/05/2014
. A new lesson is available here:
How to Read Guitar Tabs
The first thing you need to know in order to be able to read a guitar tab what is a fret corresponds to on your guitar :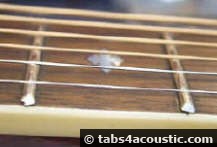 Each string has its own set of notes. So each string is represented in order to show its notes at the beginning of a song.
 
The top 'e' is the highest-pitch string. Each - stands for a beat,
The numbers stand for the fret to be pressed on,
For example: 0 is the string plucked open & 1 is the first fret pushed down, etc...

e|-----0--1--3--||
B|--------------||
G|--------------||
D|--------------||
A|--------------||
E|--------------||
Our first exercise takes place on the first string only. The goal is to have you practice playing with your fingers, so you get used to moving them:

e|--0--1--3--1--0--3--1--3--0--1--0--3--
B|--------------------------------------
G|--------------------------------------
D|--------------------------------------
A|--------------------------------------
E|--------------------------------------
By Luke Daniels
Comments